Effective communication and collaboration are the lifeblood of success in the ever-evolving landscape of modern business. The ability to streamline teamwork is often the key differentiator between thriving organizations and those struggling to keep up.
You may have heard of Slack software from your business peers, and this blog explores the incredible impact of Slack on enhancing communication and collaboration within businesses. We'll delve into its features, benefits, and practical examples of how Slack can transform your team's productivity.
What is Slack?
Slack is a real-time messaging platform designed to facilitate collaboration among teams. It combines the simplicity of instant messaging with file sharing and integration capabilities. Slack allows teams to communicate and work together seamlessly, regardless of their physical location.
How Does it Work?
Slack is like a digital office, making it easier for teams to communicate and work together. Imagine it as a place where you have different rooms or channels for specific topics or projects. In these rooms, you can chat with your colleagues, share files, and organize all your discussions.
You can also send direct messages to individuals for private conversations. Slack is unique because it allows you to integrate with other apps you might use for work, like Google Drive, Dropbox, or Trello, so you can access your files and information without leaving Slack.
Let's Get Started!
Creating a Workspace
To get started with Slack, you need to create a workspace. A workspace is your organization's dedicated communication hub within Slack. You can create a workspace for your company, team, or any group that needs to collaborate.
Creating a Slack workspace is like setting up a digital meeting place for you and your team to chat and work together. Here's how to do it:
1. Go to Slack's website: Start by visiting Slack's website (slack.com).
2. Sign up: Look for the "Sign Up for Free" or similar button and click on it.
3. Fill in details: You'll be asked to provide some basic information, like your email address, password, and your name. It's like creating an account for any online service.
4. Confirm your email: After you've filled in the details, check your email for a message from Slack and click on the confirmation link. This step is essential to verify your email.
5. Create a workspace: Once your email is confirmed, create a new one. Think of it as naming your digital office. You can give it any name you like.
6. Invite your team: After you've created your workspace, you can start inviting your team members. You can do this by entering their email addresses. They'll receive an email invitation to join your workspace.
7. Customize your workspace: Add a profile picture, set up channels (chat rooms for specific topics), and customize how your workspace looks and feels.
That's it! Your Slack workspace is ready for you and your team to start chatting, sharing files, and working together. It's like setting up your digital meeting room for better teamwork.
Some valuable features are noted below. You can check out the Slack tutorials HERE to discover a complete list of features.
Channels
Imagine you're part of a large organization with various teams and projects. To keep everyone focused and organized, you can create dedicated channels in Slack. For instance, you might have a "Marketing" channel where your marketing team discusses campaigns, shares ideas, and collaborates on strategies.
Simultaneously, you can have a "Sales" channel where the sales team can share leads, successes, and sales-related information. Furthermore, for a specific project, let's say "Project X," you can create a channel exclusively for that project, allowing team members to communicate, share files, and track progress all in one place. This way, you ensure that discussions are relevant and organized, making it easy for team members to find information and collaborate effectively.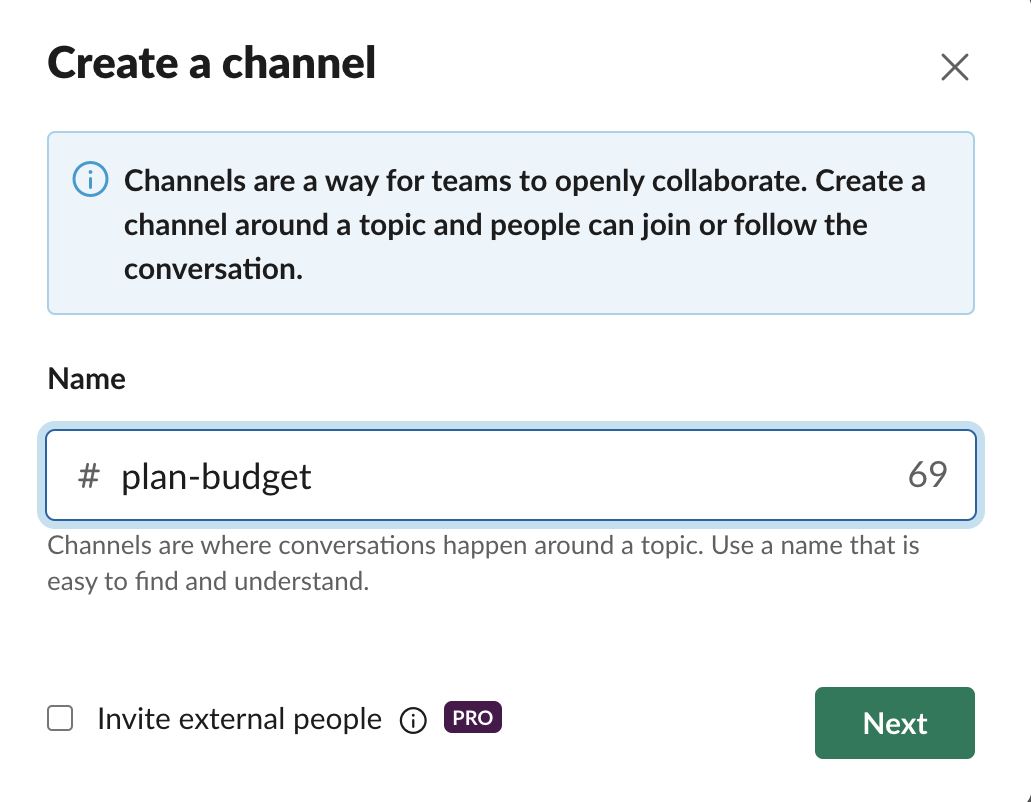 Direct Messages
Let's say you're part of a project team and need to discuss a specific task with a colleague, Sarah. Instead of cluttering a group channel with this one-on-one conversation, you can use Slack's Direct Messages feature. You send a private message to Sarah, discussing the task, sharing files, and resolving any issues efficiently. This keeps the team channel clean and ensures that only relevant parties are involved in the discussion, making your communication more organized and focused.
Integration with Email
Imagine facing a crucial project with a looming deadline, and you receive an essential client email in your work inbox. Instead of constantly switching between your email and Slack to align your response with your team, you can effortlessly incorporate your email into Slack. This allows you to read and reply to the email directly within Slack and share vital email content with your team. For example, you can promptly address the client's requirements in a dedicated channel, instantly distribute email attachments, and receive immediate feedback from your team, all without navigating away from Slack. This email integration simplifies communication and ensures that all essential project discussions occur in one centralized location, significantly enhancing efficiency and collaboration.
Integrations and Apps
Let's say your marketing team relies on Google Analytics for web traffic, Trello for project management, and MailChimp for email campaigns. Slack's integrations allow you to connect these tools.
For instance, you can link Google Analytics to receive daily traffic reports in Slack, keeping your team updated without logging into various platforms. Trello integration notifies your team when tasks are completed, eliminating the need to check Trello constantly. Integrating MailChimp provides real-time campaign and engagement updates in Slack, streamlining collaboration and data-driven decisions.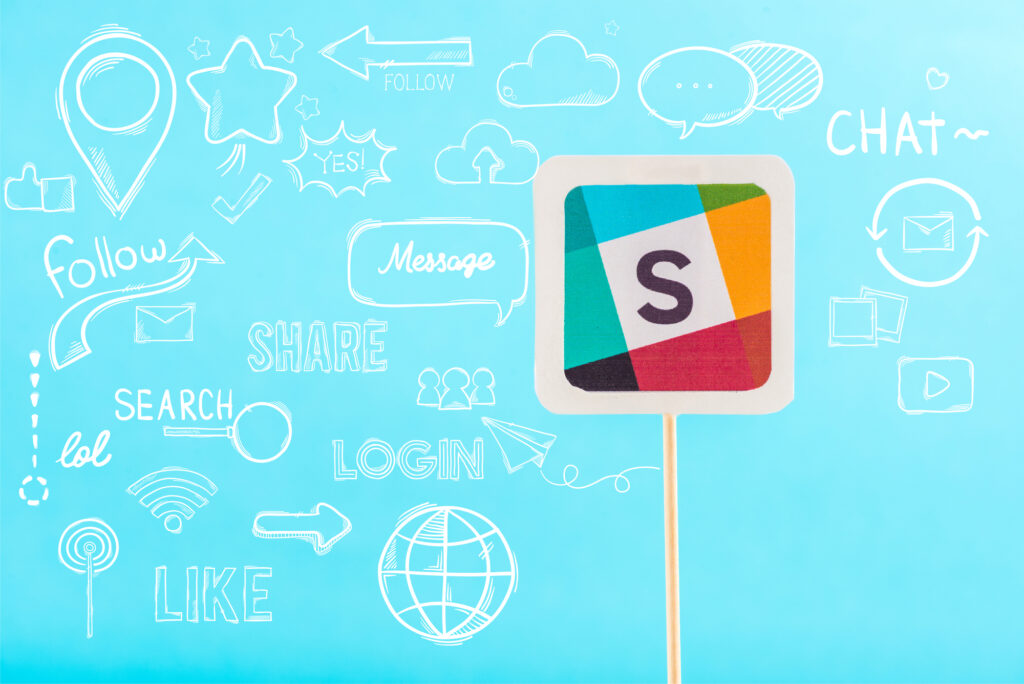 Work Remote Work with Slack
Working remotely with Slack is like taking your office wherever you go. You don't have to be tied to a desk in a specific place – you can work from your comfy couch, a coffee shop, or even while traveling. With Slack, it's easy to stay in touch with your team. You can chat with them in real-time, ask questions, share ideas, and get things done together, just like in a regular office. Plus, you can quickly find all your important messages and files because it's like having a magic organizer for work stuff. It's a fantastic tool for flexible schedules, helping you balance your work and personal life. So, if you're looking for a way to work from wherever you please while staying connected with your team, Slack is your perfect digital companion.
Slack is a transformative tool that can redefine how your team communicates and collaborates. Its impact reaches beyond chat messages, allowing teams to streamline their work, stay organized, and achieve more in less time.
Closing Thoughts
Slack empowers teams to work efficiently, whether in the office or globally, by centralizing conversations, enabling real-time collaboration, offering a vast array of integrations, and supporting scalability. This platform represents the future of work, where distance and time zones are no longer barriers to productivity. Slack is more than just a tool; it's a catalyst for change in the business world.
So, consider introducing Slack to your team and unlock the potential of efficient communication and collaboration. It's not just a messaging platform; it's a productivity revolution waiting to happen.
We're here for you and your business.
"I have not failed. I've just found 10,000 ways that won't work."
— Thomas Edison
Let us know if you'd like to read a blog about a business subject that has not yet been posted. Click here.
Read: How to Increase Sales in Today's Economy
Read: Why You Should Batch Work For The Ultimate Productivity (And Save Yourself Hours)