This blog will dive into why Trello is an excellent tool for businesses and management teams. Let's see how you can get the most out of team building with Trello.
But first, we want to help you understand the Trello Board Flow. If you're familiar with Trello, you may skip the basics and get right into How Managers Can Get the Most Out of Team Building Using Trello
The Trello Board Flow
There are three main aspects to this software:
· Boards
· Lists
· Cards
What is a Board?
A Trello board is a visual bird's eye view of your project. It is your to-do list at a glance. Keep in mind, the free version of Trello allows you to have access to ten full boards. Each board may be a project, client, or any aspect of your workflow you need to organize, such as a content calendar for writing, as an example.
Trello comes with board templates, which we'll see more of further into this blog. What's nice about this is that you don't have to start from scratch in designing your board, and with the myriad of template ideas Trello offers, you are sure to find a board that fits your organizational needs.
For this article, we will start with a template. We loaded a content calendar template board, as shown by the graphic below. A content calendar is the type of board our marketing consultant, Wow Your Brand, would use to set up the writing tasks for the Jurupa Valley Chamber of Commerce Business Blog.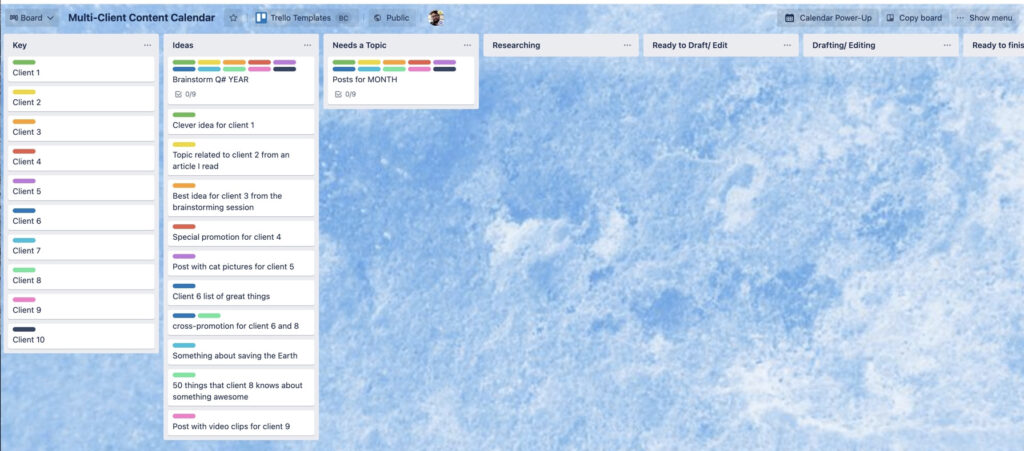 Some have called Trello the "Pinterest of Project Management Tools." Why? Because you have a visual representation of your project. As you can see, you may add colors and even images to highlight priorities. Once the board has been created, a series of lists will be the next thing added to your board.
What Are Lists?
Think of Lists like you would a regular header on a note pad to-do-list, with each note pad being a category of items that need to be completed, such as a "grocery list."
Lists can be used to create a workflow of ideas and information. With each list you add to a board, you maintain the flexibility to move them around.
To illustrate, refer to the templated lists shown in the graphic below. The template provides an example of the following lists:
· Needs a Topic
· Researching
· Ready to Draft/Edit
· Drafting/editing

In this example, the lists move through the flow from left to right, such as finding a topic to publish, researching that topic, starting a draft, and finally writing the actual article. Often, users will add a done list to their board and move the card from each list as items are completed.
What Are Cards?
Cards are used to represent tasks and ideas. They are the most detailed aspect of the board, and they pinpoint the exact nature of the task.
The graphic below shows the "Needs a Topic" list. A card in this template identifies the content posts for the month. Several cards associated with this list may spell out various topic ideas and provide possible times when it's best to post the content.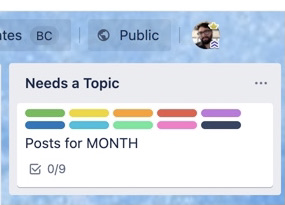 Both lists and cards can move around. Say, for instance, you decided on a topic to write, you would first create a card in the "Needs a Topic" list, and when you are ready to begin researching, you drag the card with your mouse from the "Needs a Topic" to the "Researching" list, and voilà, your tasks are moving towards completion.
Now that you understand the basics of Trello, we can dig into How Managers Can Get the Most Out of Team Building Using Trello.
Virtual Team Activities
Trello is a fantastic app for virtual team activities. Companies with a hybrid or fully remote team can benefit from using Trello in this way.
Create a Trello board with a list of activities that your employees can do together. Schedule a specific day or time of the week and choose a team bonding activity from the Trello board. Perhaps on Friday, you can turn an hour into team-building time.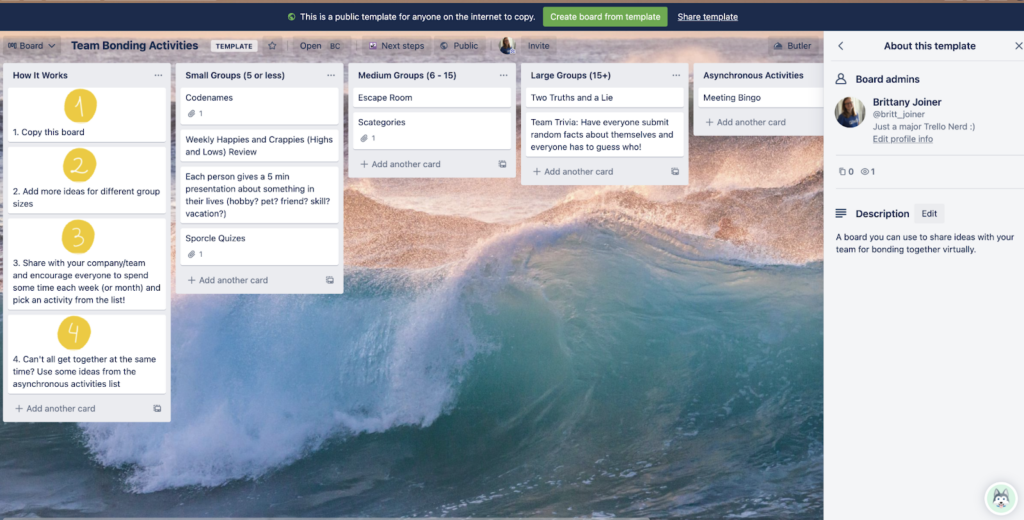 Is it challenging to get the team together at the same time? How about creating a list of asynchronous activities that don't require everyone to be together simultaneously.
It may feel like the time away from work is time lost, but activities like this as a team are far more important in the long run. You'll save those valuable hours many times over when the team feels more connected and aligned with one another.
Manage Employee Swag with Business Tracking
Does your company use swag to help motivate reaching goals? If so, a Trello board specifically for the swag giveaway is a great way to use this software.
Make life easier by keeping information like shipping addresses, sizes, and delivery status all in one place.
Using this template alongside the Crmble Power-Up lets you easily choose an item you'll send to your employee and track the progress as you ship your item out. Take it a step further and add the Package Tracking Power-Up to keep delivery information inside the card so you (and your employees, if you wish) can monitor the shipping status.
It's a fantastic way to be organized and show you care all in one Trello board.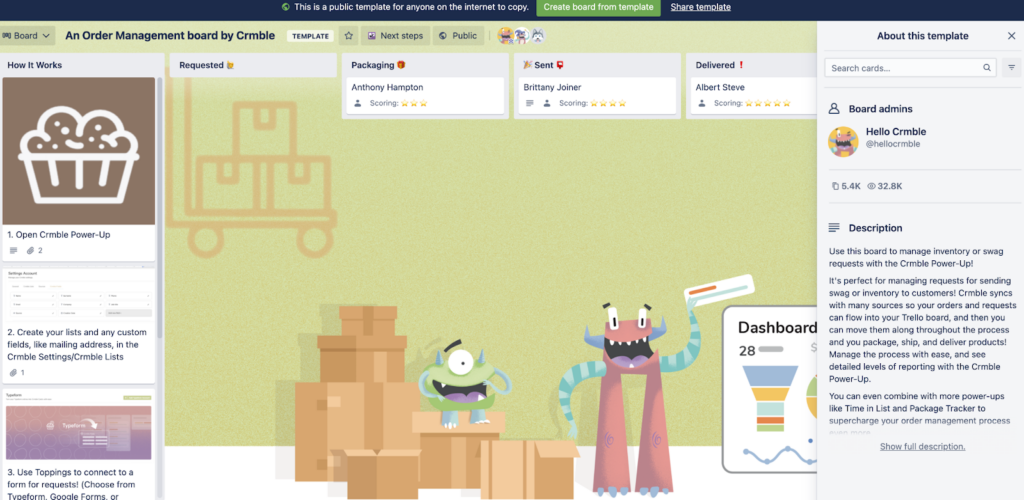 Employee Feedback Tracking
Every employee wants to feel like their voice and opinion matter. AND IT SHOULD. Make it easy with an Employee Feedback Board.
Create a central repository for employee feedback and then make a public way to view the ones you're actively addressing.
Create a Typeform or Google form where your team can anonymously submit a card about something they think could use improvement. Using the Typeform Power-Up (or Zapier + Google forms), you can easily send responses from that form into a Trello board.
If you make the board public, the whole company can see the feedback and even vote on submitted feedback to prioritize the work. To do this, you will want to use the Voting Power-Up for this board.
On the board, you can create lists that represent the stages of addressing the feedback. Something like "Received," "Working On," "Completed," "Reviewing Improvements."
Remember to Document your ideas, in each stage, on the card description or comments. By making this board public, your whole company can see that you're taking the feedback and making moves to improve processes. Let your team know their voice matters.
Recognize Top Performers and Reward Achievements with a Kudos Board
Let's face it; recognition can go a long way. Employees feel engaged when they know the things they do matter. And what better way to express your appreciation than with some recognition and a sincere "Thank you."
You can set up this board in a couple of different ways. The first is to have a board with a card for every member of your team. When someone wants to give kudos for a job well done, they can comment on that card to that employee.
Another way to set this up would be for teammates to give kudos by creating a card and assigning the team member they want to recognize.
How about creating a Kudos "bank." When an employee receives five kudos in a month, they get a Starbucks gift card (or something similar). Sounds like fun!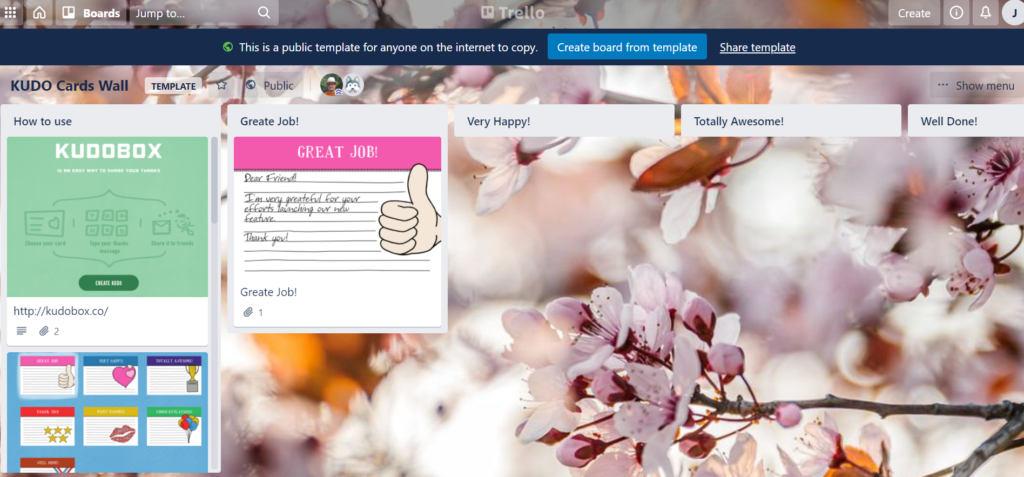 Distributed Team Brainstorming
Even though your team may not be working from the same place, they can use this type of board to collaborate and share ideas with the team. So how exactly would you create a Trello board to use for disruptive team brainstorming?
Create your left list with cards to help identify higher-level initiatives or problems you would like the team to help solve.
Then create a list for each round of ideas. Each person on your team will create a card for their different proposed solutions. As you discuss the solution ideas, move the ones that have the most votes to the next round.
So why use the "disrupt" technique for brainstorming?
Most employees are often pushed to be innovative or asked to push the envelope. However, coming up with ideas can be difficult. After all, many people look at things from the same angle and use the same thought process. That's why the disruptive technology technique works well.
This technique is about changing your team's thought process. First, you may think broad, but then you'll introduce constraints, using "disrupt" cards.
Let's say the problem is you need new company meeting ideas. Now let's say we introduce the sales constraint. Our team would brainstorm ideas for our business meeting that are focused on sales. Each time we introduce a new constraint, it sparks new ideas because it forces you into a direction you may not have considered before.
By the end of this, you'll have a set of winning ideas that you can pursue for your business meetings.