In small and large business organizations, individuals and departments need to communicate effectively with one another. Communication is vital to avoid errors on projects and to expedite or streamline workflow processes. One way to do this is to orchestrate team-building exercises for your workplace.
The good news is, they happen to be extraordinarily fun!
What are team-building activities in the workplace?
Team-building activities are instrumental in developing employee productivity, cohesiveness, and efficiency through positive motivation in game-style presentations.
We have highlighted our favorite nine team-building activities for you to share with your employees. Each of these options is practical for small and large businesses and also, in today's climate of social distancing, we've added a few ideas to solidify the team six feet apart.
Team Building Ideas for Small Work Groups
-1- Shark Tank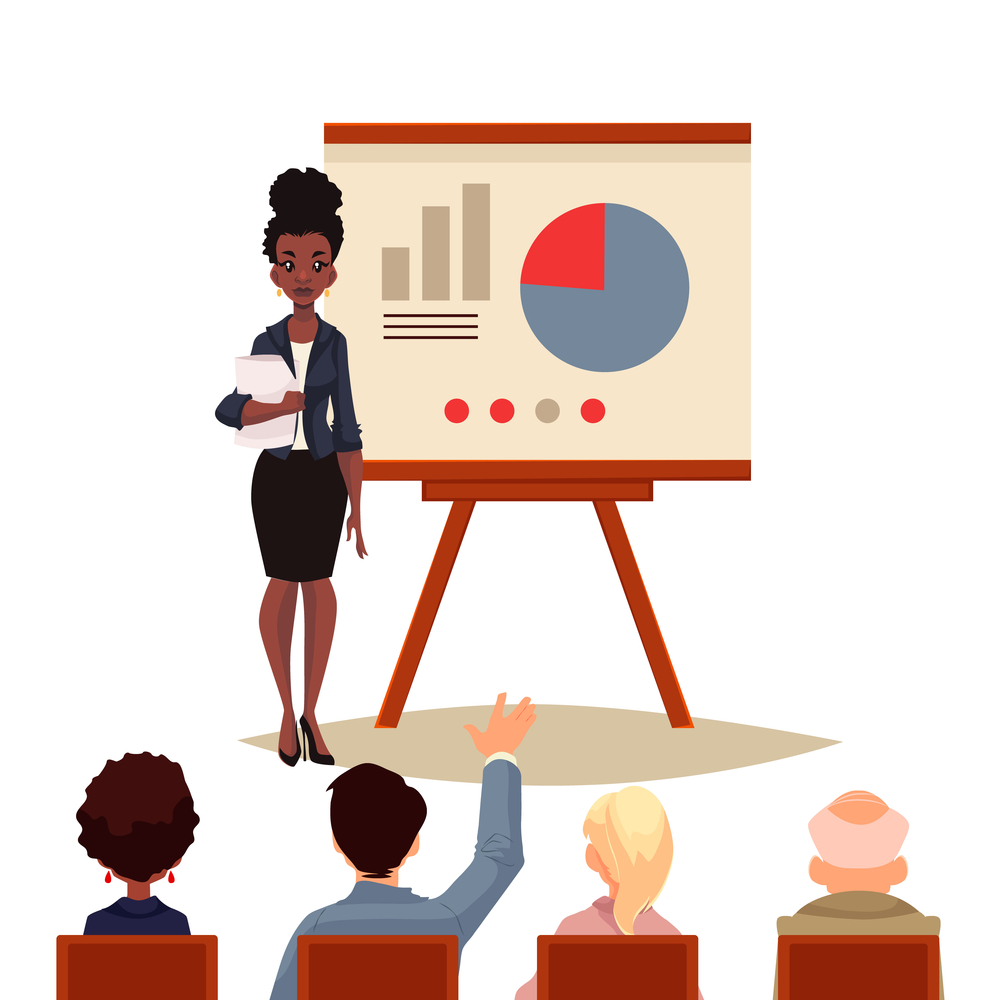 Many of you have seen Shark Tank's television show where participants pitch their best business idea to the entrepreneurial hosts. Ideas can be unique, making them a ton of fun to develop. It's a feel-good show. After all, we all want to applaud a good idea and see it come to fruition, right?
You may create your Shark Tank by inviting employees to an outside venue armed with their next business development pitch. This type of activity may create a new idea for your business as employees get creative. You never know if your next company's brilliant product could be in the works, and essential skills are developed among your future "shark tank" crew, such as listening and creative thinking as they share their ideas.
SKILLS THIS ACTIVITY DEVELOPS:
Creative thinking, communication, listening, and learning to find the positive side of constructive criticism.
---
-2- Escape Room
Another idea for small workgroups is an Escape Room. Everyone is "stuck" in a room, and the only way "out" is to find the clues in the room that leads them to the key that unlocks the exit door.
Not only will you get everyone off of their cell phones for a bit of communication, but participants will have to put on their sleuthing hats and communicate with one another to get out of the room.
You'll likely find your next leader in the "escape room" experience. Someone needs to be in charge of organizing clues and strategize the way out. It would be fascinating, as an employer, to watch and discover who could be your next project manager.
SKILLS THIS ACTIVITY DEVELOPS:
Teamwork, Problem-solving, trust, communication, and leadership.
---
-3- Scavenger Hunt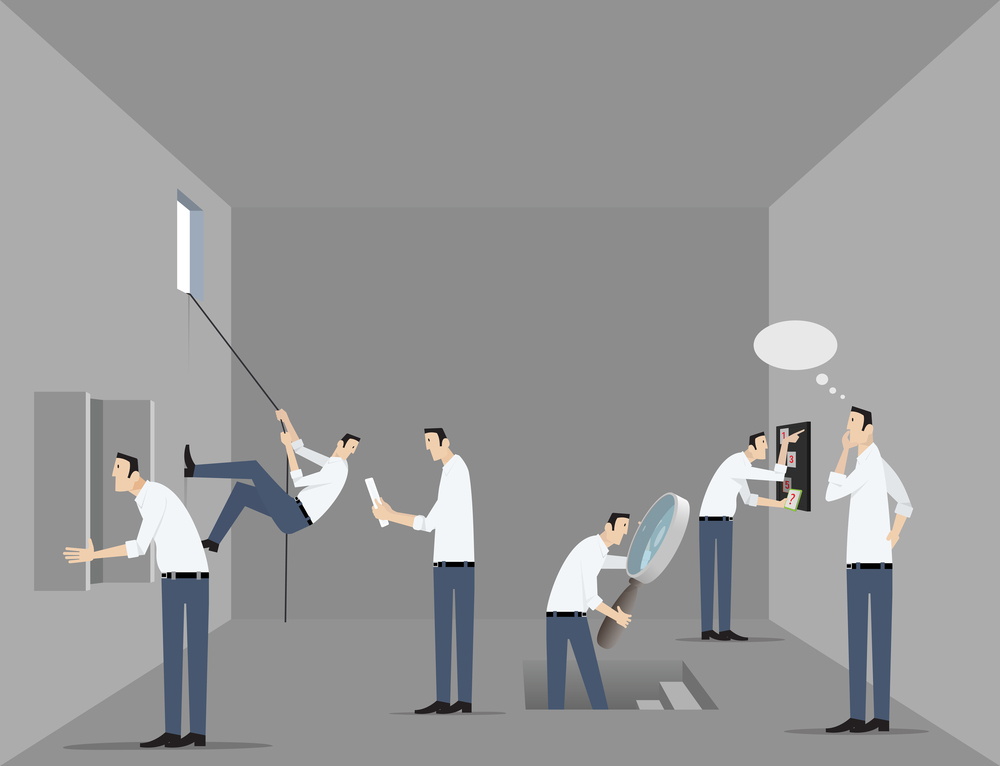 More sleuthing as you hide items around and get your employees on the hunt for a prize.
Many of you have probably played this as a child. Written clues are scattered around under rocks or, in this case, equipment at work, and the like to lead you to your next clue, eventually leading you to a prize. Wouldn't it be nice to win lunch with the company President, for example? One aspect of Scavenger Hunt is that there is just a healthy touch of competition between sleuths to bring out the best in each other.
SKILLS THIS ACTIVITY DEVELOPS:
Team building and collaboration, critical thinking skills, problem-solving, and decision-making.
---
Team Building Ideas for Large Work Groups
Large workgroups are a bit more challenging as far as logistics. You will need more room and perhaps a bit more organization to initiate them, but the return is well worth the investment on time.
Think big and step away from the office.
---
-4- Fun Day Out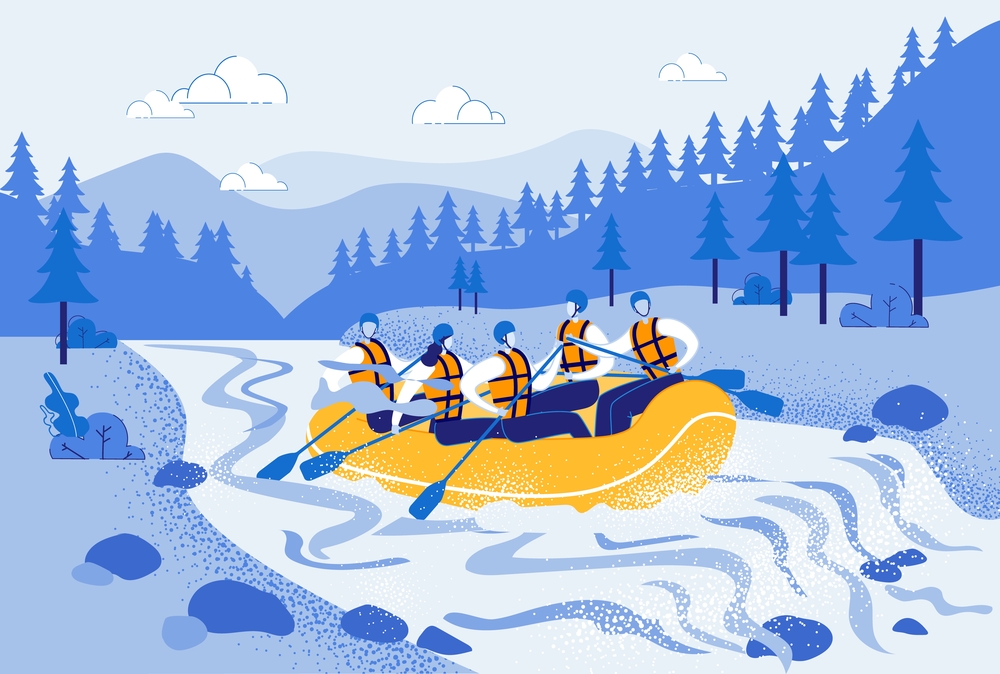 Fun. Plain and simple. Let your hair down and try something new and adventurous, like a kayaking trip, hike, or rowing expedition. Bring out the "young heart" in your staff through unstructured time away from the office and spark creative thought and awareness. An activity like this allows the teams to get to know one another a little more and discover talents and capabilities through casual conversation.
SKILLS THIS ACTIVITY DEVELOPS:
Teamwork, collaboration, and freeing the mind to spark creativity.
---
-5- Get Involved in a Cause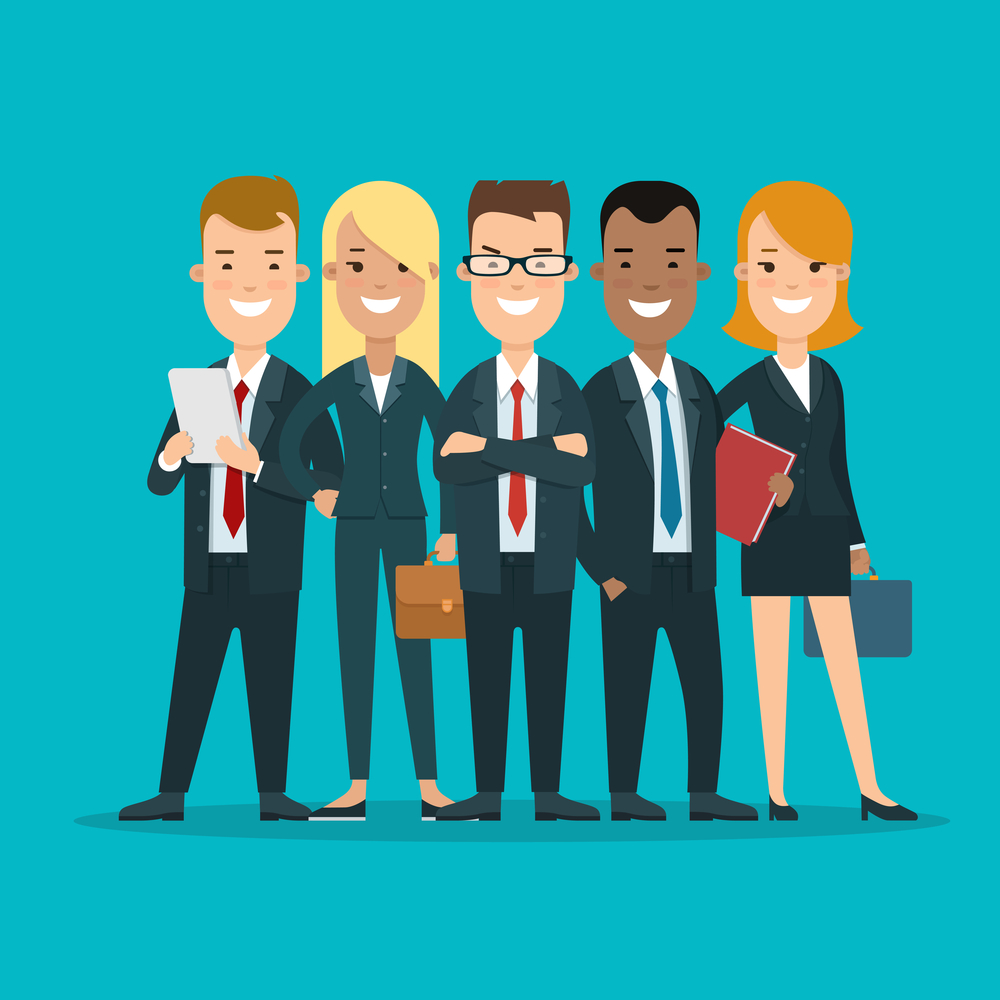 There are so many ways to take this on. One thing is sure, building something together brings unity and accomplishment as a team. Therefore, choose a cause and work together toward a common goal.
For example, Habitat for Humanity is a worthy cause that builds homes for people in need. With so many natural disasters that have occurred, it's an excellent way to build not only homes but trust and teamwork with your employees, with plenty of room for different departments to connect.
During the day-to-day, it's sometimes a rarity that departmental employees have an opportunity to network and share ideas. Taking on this activity is an excellent way to connect and feel the benefit of a shared reward when the project is complete.
SKILLS THIS ACTIVITY DEVELOPS:
Trust and teamwork.
---
-6- Corporate Castaways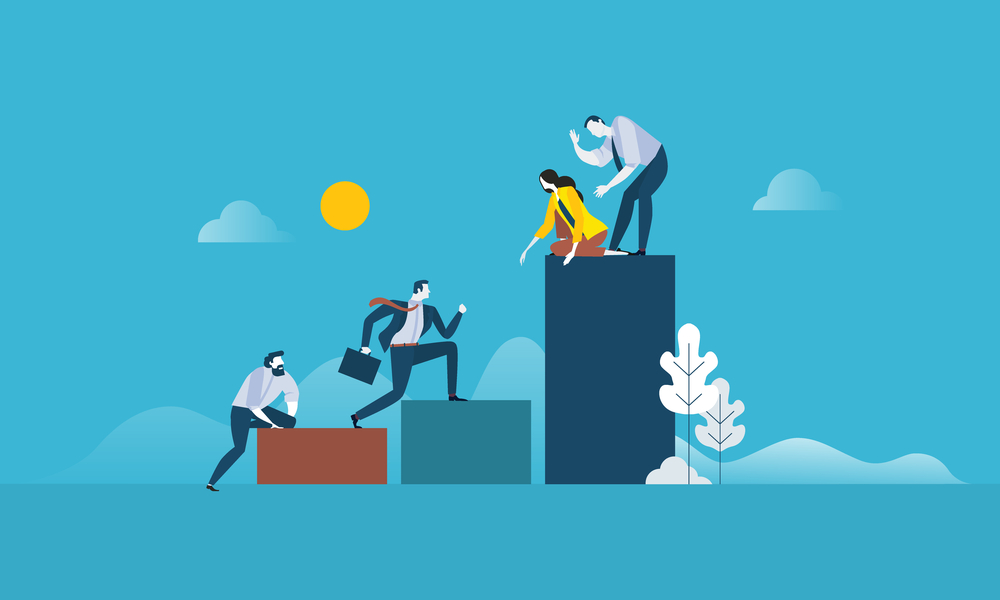 Don't let employees sink or swim on a project, discover team-building exercises so they can learn to help each other out.
Many of you may have watched the Survivor Television series. This type of team-building activity caters to large organizations. What could be more exciting in developing problem-solving skills and collaboration among participants?
Let your imagination be limitless in coming up with an adventure that will have your staff learn to "survive" with one another in a survival situation. When your team gets back to the office, they will find a newfound respect for one another's talents and network offerings.
SKILLS THIS ACTIVITY DEVELOPS:
Collaboration, problem-solving, trust, and teamwork.
---
Social Distance Team Building
-7- Egg Toss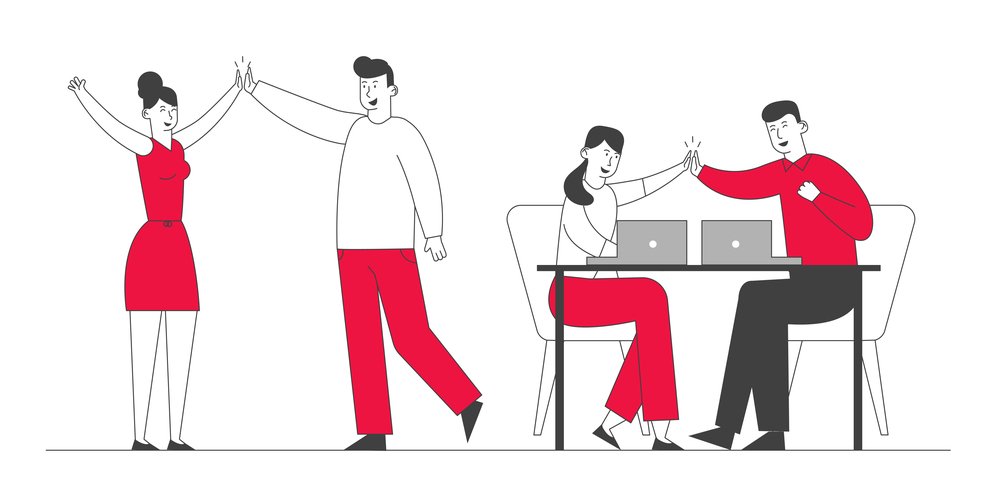 We thought this was an excellent activity to throw in. Eggs are delicate and let's face it, there are time-sensitive issues at work that may require special care. This exercise may help employees hone in on those skills.
How far can you throw before breaking the egg? An excellent analogy because how far can employees distance themselves from one another until miscommunication happens with a client and they get egg all over their face.
SKILLS THIS ACTIVITY DEVELOPS:
Teamwork, trust, and time management.
---
-8- Creative Contest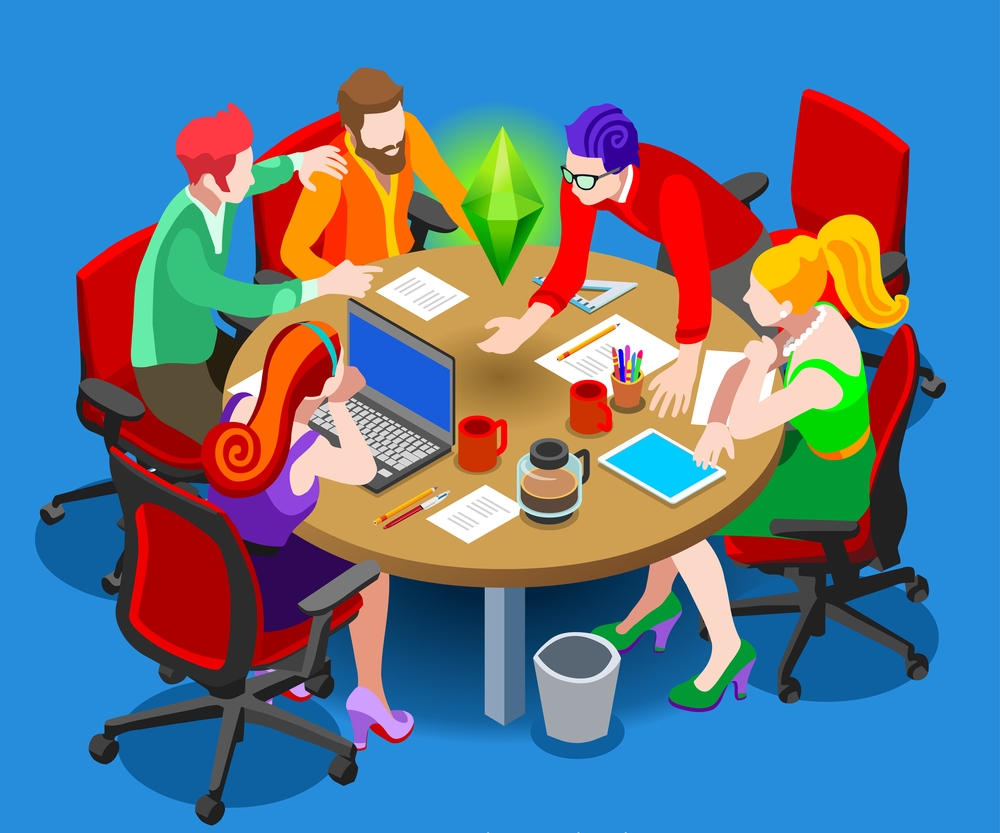 Discover the "Van Gough" in your employees as you launch a creative contest. It can be paintings, songs, or even short stories that they can complete at home.
However, here is the catch, the art must be produced as a theme, and everyone's "masterpieces" are conglomerated together to create a final result. An incredible experience to watch the ideas come forward as individual projects and then witness how artistic individualism can morph together into a final product.
This activity works for those who are a bit shy around others. There is also little preparation or cost in the planning. What about having your team develop your next 60-second marketing video incorporating all their creativity into one branded message?
SKILLS THIS ACTIVITY DEVELOPS:
Teamwork, trust, planning, and project management.
---
-9- Skribbl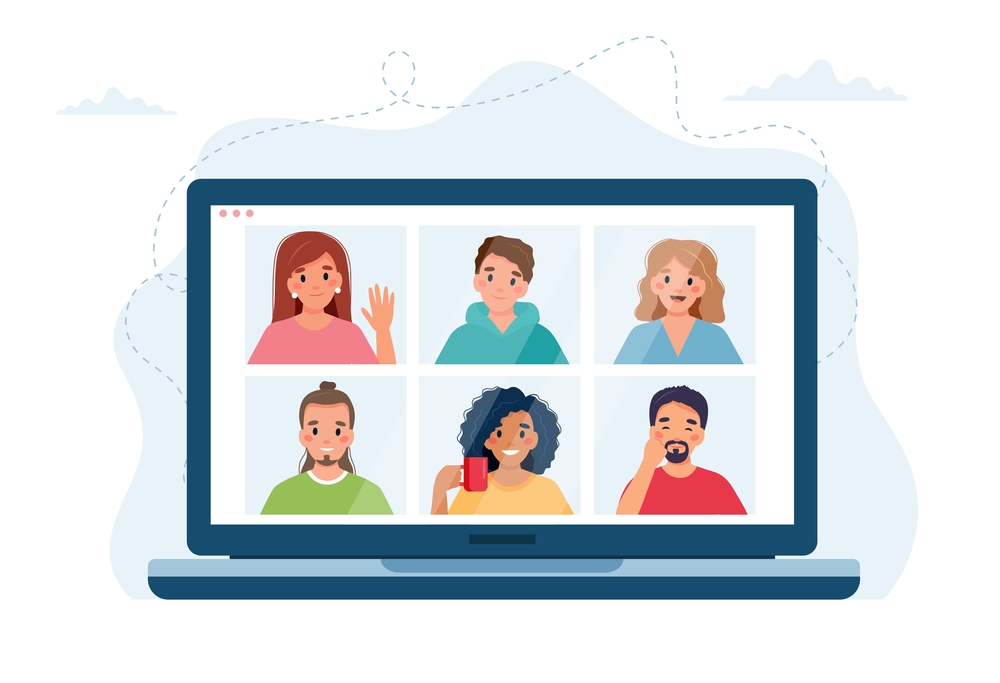 Maybe you have played the game Pictionary? Well, Skribbl is a bit like this game, and you don't have to paint like Picasso to take advantage of this activity.
Name that picture. This activity can be played while in a ZOOM, or other software, meeting. Get peers to learn about one another by asking them to draw an object in a particular category and see what they come up with.
Example: Ask a member of the team to draw an animal and have the rest of the zoom participants try and guess the animal they are drawing. It's a great way to learn a lot about the thinking skills of your personnel too. Who draws in the box and who has a broader thought process.
SKILLS THIS ACTIVITY DEVELOPS:
Creative thinking, communication, and teamwork.
---
Conclusion:
There you go. Nine different ways to engage with your team and learn more about their talents and skills through a relaxed atmosphere.
Personalize these ideas to your organization's values and brand. Have fun but keep in mind that information can be gleaned from each of these fun exercises. Get to know your staff better in critical thinking, organization, leadership, and creativity, to name a few, and ultimately discover a stronger team.
Guest blogger: Mary Webb