We started this four-part blog series with:
– Which Social Media Platform Is Best For Your Business
– What Are Your Business Competitors Doing?
In this fourth and final blog of the series, we're going to look at 6 Important Tips To Get The Most From Your Social Platforms.
So, let's get started.
There are so many different tools out there to make your social marketing easier. Here are 6 things to keep in mind when planning your strategy in 2022.
USE A SOCIAL MEDIA CALENDAR
Why use a social media calendar?
1. Using a calendar helps you get and stay organized. Planning outposts for an entire week or month frees up working hours to prepare for future strategies. Check out our blog WHY YOU SHOULD BATCH WORK FOR THE ULTIMATE PRODUCTIVITY (AND SAVE YOURSELF HOURS)
2. Using a calendar will help you customize each platform and craft custom messages for each network.
3. Using a calendar can help you track the performance of future posts. You should strategize your entire content. Remember, this is your virtual store, and your customers or prospective customers can browse 24/7. Make sure what you're offering is of value.
The Jurupa Valley Chamber of Commerce uses the Facebook Native Scheduler, which you will learn more about in the next section. We strategize our posts and schedule them according to our plan. Keep reading to learn more about how we calendar our social posts.
SHOULD YOU USE A NATIVE SCHEDULER?
Know which platforms want you to use their native schedulers rather than a third-party scheduler. It could mean a massive difference in your organic reach.
For instance, Facebook asks that you use their scheduler for all your posts. While you're there, you can also schedule your Instagram posts. If you use a third-party scheduler instead, your organic reach may be less than desirable.
The Jurupa Valley Chamber uses the Facebook Native Scheduler in Facebook Business Suite, and it looks like this once we've added our posts. This is the monthly view and, at a glance, we can see what we have scheduled for Facebook and Instagram and the times that they will be released. Facebook Business Suite will also give you some ideas on what to post, which is shown in blue with the star icon in a square.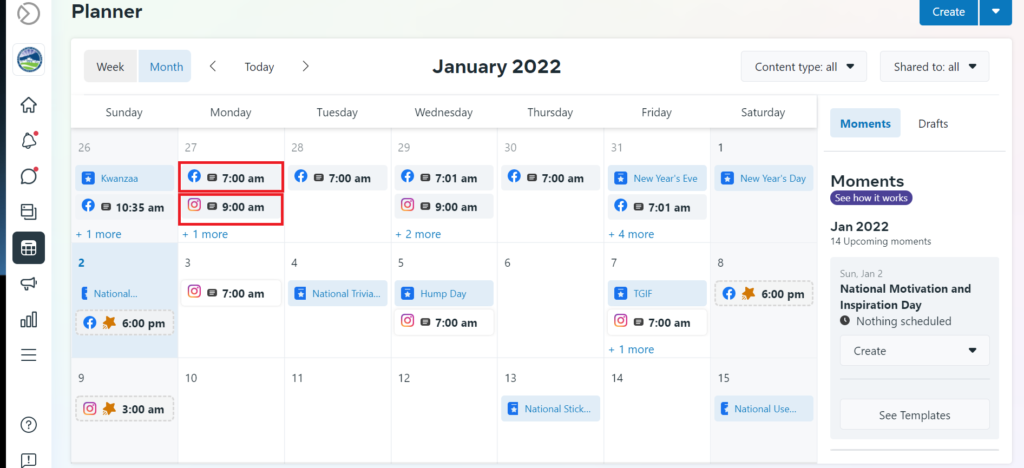 As we continue to look at this calendar, we've now moved to the weekly view. Notice that Facebook shares with you the best time and day of the week that your followers are most active on Facebook and Instagram. That is valuable information when planning your calendar. Also, to the right, I marked where it states "Moments." This area allows you to "See which holidays are coming up and plan ahead by scheduling posts and stories around them."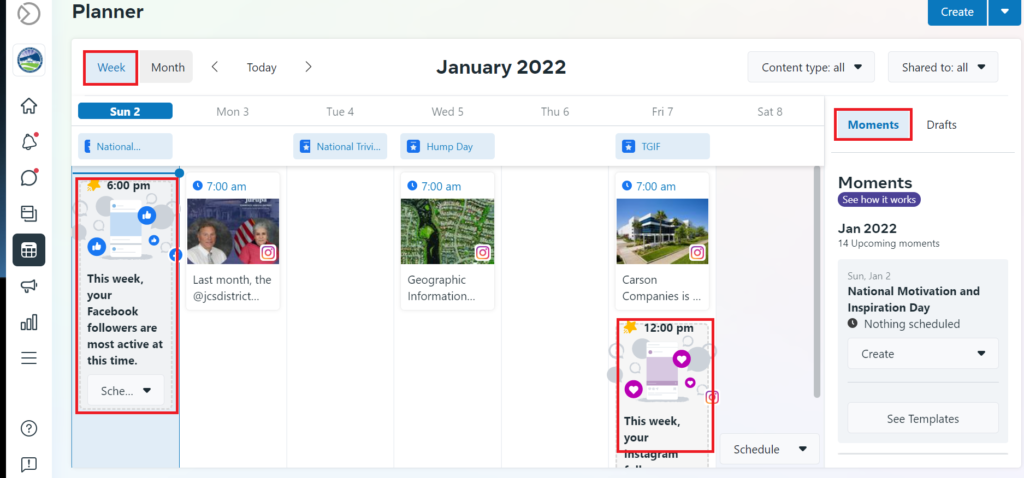 And finally, you can easily review your scheduled, published, or draft posts in one place. You can also create a story or create a post from this view. Read on to learn more about that area which reads "Posts from similar businesses."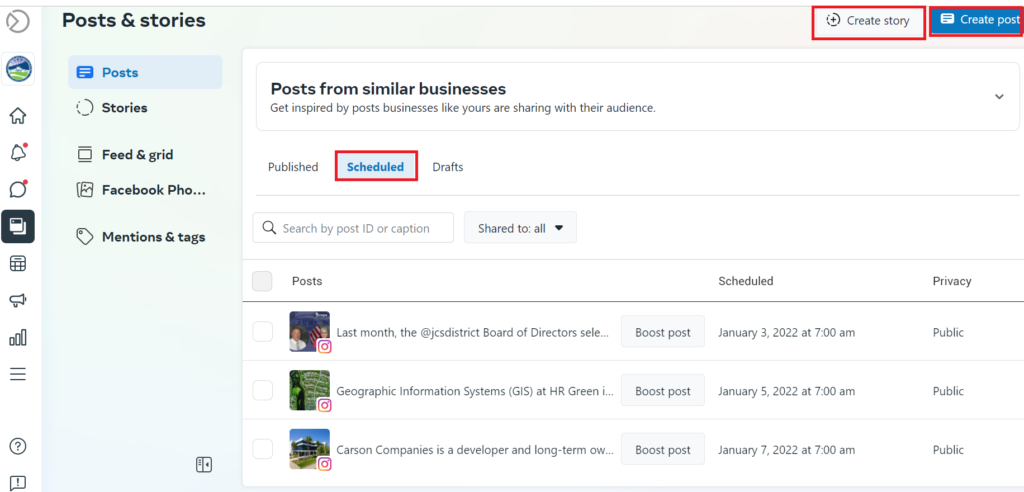 "Posts from similar businesses" gives you a look at what other businesses like yours are posting. If you need some creative ideas, check out their posts before you create your own. Read more about what your business competitors are doing.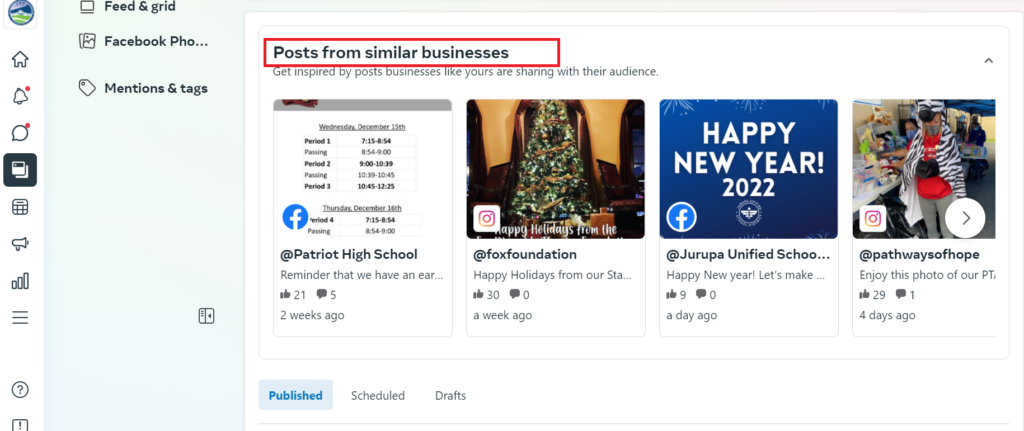 Let us know if you'd like to learn more about Facebook's Business Suite. Click here.
DEFINE YOUR VOICE AND TONE
What is the tone of your brand? Finding your voice is one of the keys to connecting with your audience. So, how do you define your voice?
Ask yourself these questions:
1. What do I want my brand to sound like online?
2. What is the vocabulary of my target audience?
3. What does my audience want to hear from me? If they walked into my store, called, or sent me an email, what are their questions, and how would I respond?
That's your voice.
REPURPOSE YOUR CONTENT
There are many ways and strategies to repurpose your content. For example, if you have a fantastic blog post that you're using for your SEO (search engine optimization) strategy, how about posting that on your social pages or in your email marketing?
In doing this, you save time, get an adequate ROI for your content pieces, and a better opportunity to observe how your content will perform across different channels.
Pieces of content around the same topic can create various opportunities to target specific keywords and give you an SEO boost.
Find your evergreen content. Your archives might surprise you how much of it would be considered timeless and evergreen. Your evergreen content is that which stays relevant over time. Make sure your content is high quality to ensure that it gets traffic.
Experiment with your different channels. Here are some other ways to take an older piece of content and repurpose it for different platforms:
1. Create an infographic
2. Create a Pinterest instructographic
3. Refresh and republish old posts
4. Create an eBook
5. Create a podcast
6. Create a video series
7. Host a webinar
Track Your Goals & Measure your Analytics
Make it part of your marketing strategy to track your goals and review how your posts perform. By keeping track of your successes and monitoring your analytics, you can easily switch your strategy and plan as needed. Having this data, you'll better understand what is working and what isn't working, and which profiles need to change tactics due to the audience expectations.
The Jurupa Valley Chamber of Commerce monitors analytics on all our platforms. We can instantly tell you that our most trafficked page on our website, besides the homepage, is our member directory and then our blog page.
We market our members on our Instagram and keep track of the analytics for each of their posts. After the organic advertisement on our platform, we send the members an email with the analytics and ways to use that information to assist them in reaching their target audience. Being aware of the performance of your efforts is almost as important as the effort itself.
CREATE A SOCIAL MEDIA/PR DISASTER PLAN
Social Media is a powerful tool. However, one misstep can send your company spiraling into a social nightmare. Creating a plan now will save you when you're in panic mode.
To create a disaster guide, layout the following information:
Who do we need to notify in the event of a crisis?
What should we do before a crisis strikes?
Prepare standard responses to some common issues.
List of press contacts
Pre-draft apologies
Have access to all login information for quick retrieval.
We're here for you and your business.
"Success is not final; failure is not fatal: it is the courage to continue that counts." – Winston Churchill
Let us know if you'd like to read a blog about marketing that has not yet been posted. Click here.